Thank you to everyone for making such a memorable night.

Thank you Sue Heilbronner and Margaret Romney for heading up the speaker coaching. We had an amazing set of speakers hit very different notes and speaking styles and it worked so well because of your hard work. Thank you for running the deck and technical developments Benjamin Chait. This year Andrew Matranga stepped up with one of the toughest volunteering jobs of being the Volunteer Coordinator and did a remarkably great job. The husband and wife team of Mary Dolan and Brian Dolan ran the out of venue patio and welcoming experience. Thanks to Ken Fricklas for running our music program. Philip Ball couldn't keep away from the event and did a tremendous job day of helping fill our gaps and make sure attendees had a great time. Thank you to Lindsay Diamond for her continued support and help with speaker curation and backstage logistics. Nicole Dial-Kay ran the best dinner program we have ever had (and while starting a new job out of town). Heroic. Thank you to John Winsor for your continued support even in difficult times. Thank you to Emily Gomez for running our online support. Adam Mayer ran our sponsorship program and made their experience world class. New to the team was Danielle Dannenberg who helped with some major last minute logistics. Thank you to Ashley Cawthorn and Suzanne McKee for running our press and content. Thank you to Valerie Goren for running our communications and sales. This TEDxBoulder sold out the quickest of the last 8 and it is to her hard work. Thank you Tammi Marcoullier for your friendship and guidance. Victoria Della Torre ran the back of the house production during the show and kept the show on schedule. Nicole Baumgart led a team of photographers that truly captured the spirit of the event. Check out their work on flickr. Finally, Satya Peram ran an amazing team of videographers that are hard at work getting our videos uploaded to others can see.
Onto the speakers. Every year I think that the speakers can't bring anything we have not seen and this year blew that reasoning out of relevance. Brenton Weyi's poetic style challenged us to think about our humanity. Sean Davis had us reflect on wins in climate change and how they can help us with our current situation. Kate Nicholson put us face to face with the opioid epidemic and put forth a few ideas on just how to solve it. Kaley Klemp shared her suggestions to those that tell you to change (don't). Arthur Lee Land showed off his looping masterpiece. Peter Newton challenged our core assumptions on carbon footprint and food miles. Tania V. Chairez and Alejandro Fuentes Mena boldly stood up, looked fear in the face and showed us what is means to truly dream. Isabel von Rittberg and the performers in Ascendance Project let our minds wander and explore how space, strength and beauty interact. Ginny Mules played an amazing set outside under the setting Colorado sun.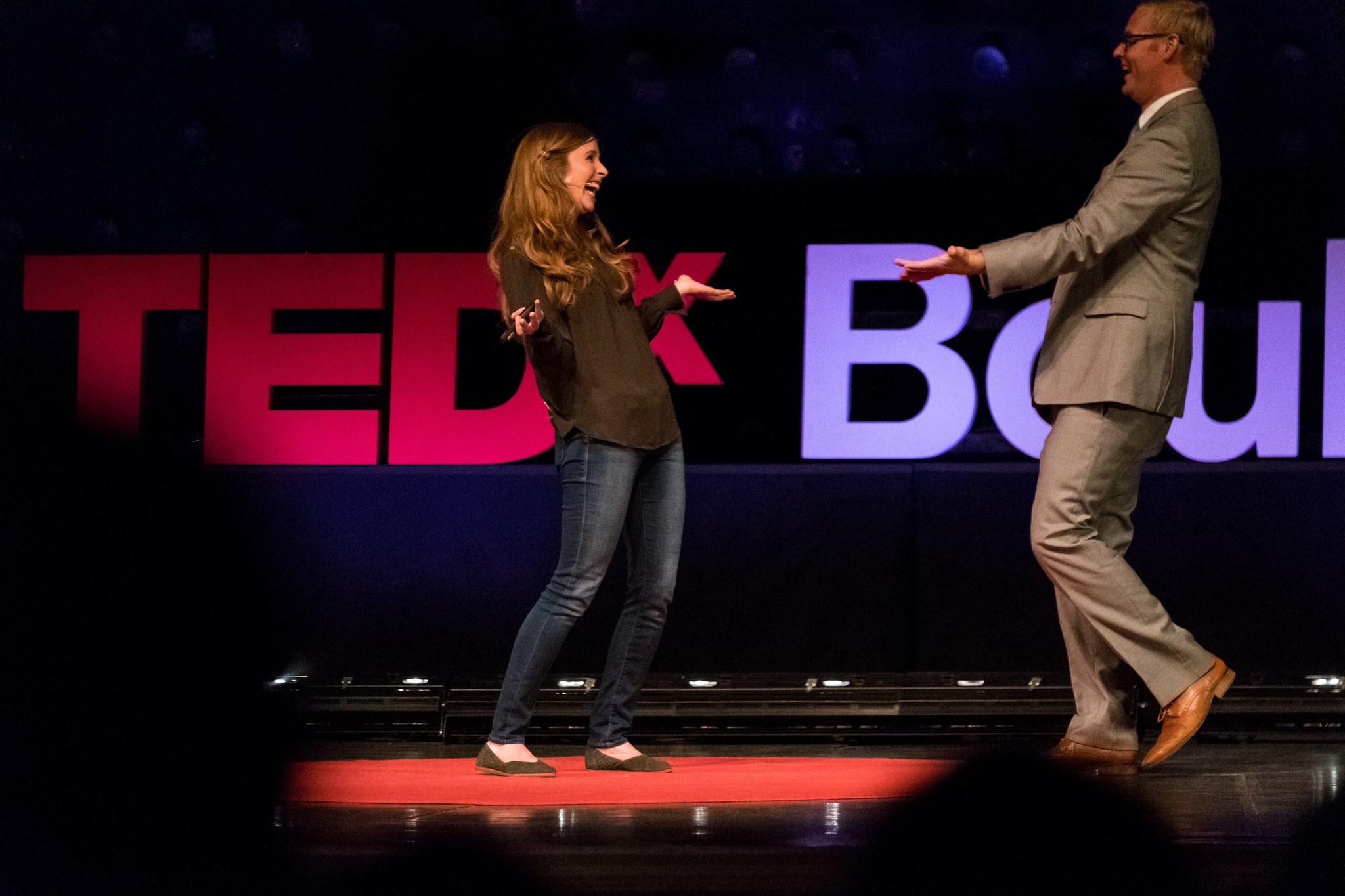 The 2nd act kicked off with Laura Hockenbury challenging us on the emotional economy and just how much that runs our days and economy. Julie Comerford jumped with joy as she shared the sounds (not just sights) of space and what that means for us. Diane Sieber suggested the next, new, exciting, and totally alright threat to Universities. The band South Of France settled us into the night with their intricate harmony and lyrical bliss. Gia Medeiros explored what it means to be attached to the heartland. Yassmin Abdel-Magied received a standing ovation for sharing her strength and resilience. Longtime friend of TEDxBoulder Erin Weed closed out the event with her amazing energy and passion (just where are you from?). 
Huge thank you to our main sponsor Functional Remedies who makes some amazing hemp based CBD for recovery. Nicest team in the state.  
We loved seeing CU Continuing Education and the large crowd of CU grads in attendance that truly got that life is a journey of education and learning. 
Thanks to the City of Boulder for sponsoring and showing us what they are working on.
In one of the most interesting sponsorships I've ever seen Rocky Mountain Wolf Project brought two actual wolves to the event for attendees to meet. They were amazing. 
Thank you to MATTER for designing our logo and tshirts. Creative and world class as always. 
Thanks to Sticker Giant for helping with our year to year storage and sticker needs. 
So, as the lead curator what stood out to me? I can't forget Yasmine's reaction to a standing ovation. Her TED.com talk has 2,000,000 views but yet I don't think she has been shown that type of enthusiastic love from that many people. 
Ascendance Project has been trying to perform at TEDxBoulder for years but dealing with space issues, insurance and timing has always defeated us. Isabelle pushed it through and led a dreamy performance that was stunning.

We have the challenge of feeding 2200 people in 30 minutes. Thank you to Alfalfas and the swarm of amazing volunteers for making this impossible task flow really well. 
I could list out every speaker and how much their talks improved over the last month. I have to say thank you to Brenton for helping with some last minute curation and being a positive force with everyone he reaches. I'm glad you didn't throw away your shot.  
This was my 8th year organizing and hosting. It is my favorite day of the year, in many ways of the spirit of "Ideas Worth Spreading" but also in seeing people, often 'regular' people given the chance to step up and do something they have dreamed about. Those moments are why I spend so much time giving back. 
When I joke onstage that you can't see anything, I mean it. Here is proof :)
Finally, Thank you, the TEDxBoulder community for being there, stepping up and sharing your love with us. Your energy and support means the world.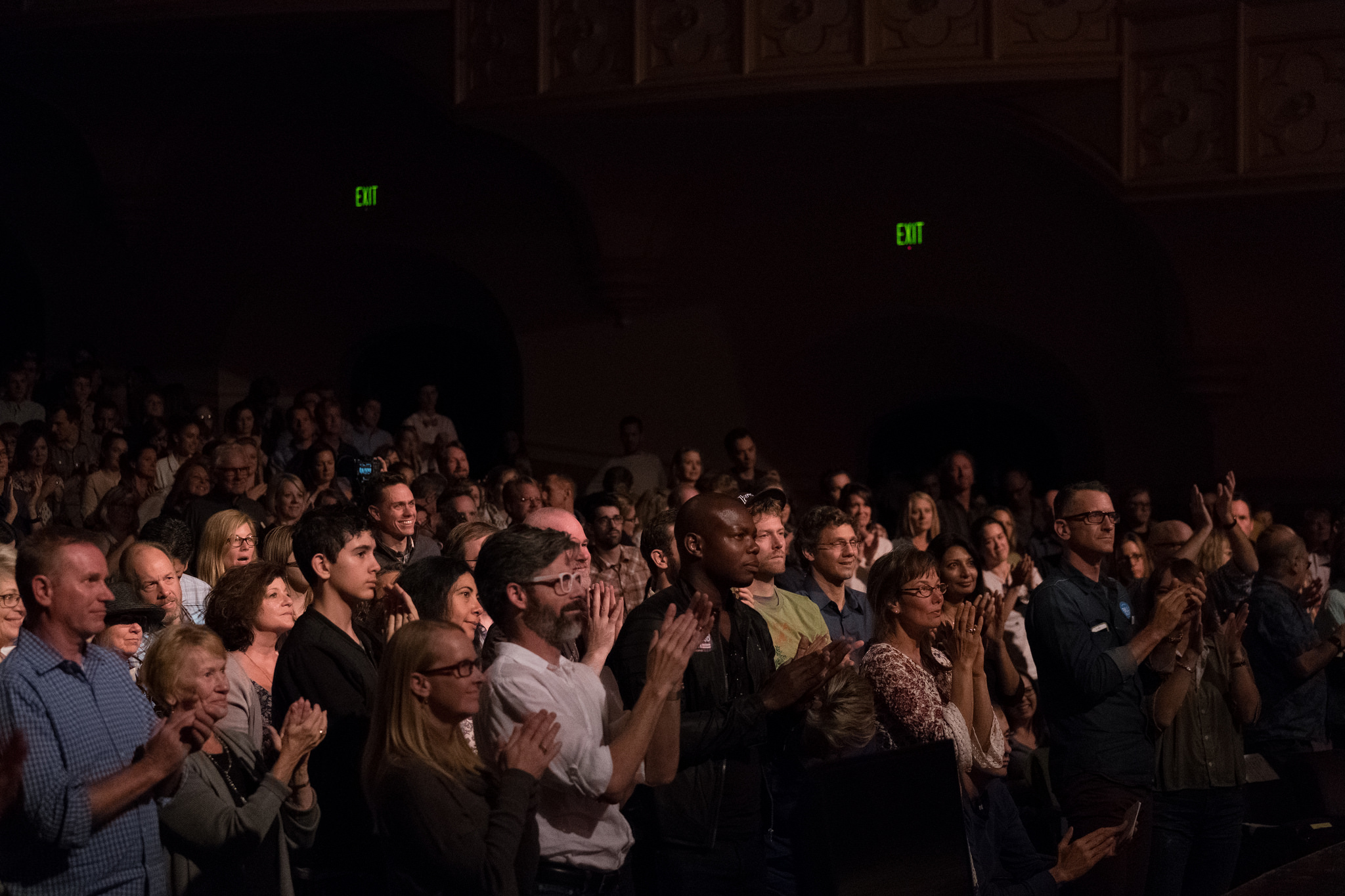 That is a wrap for 2017. Thank you so much to everyone. 

Ready for 2018? Big plans. Stay tuned.